Our bar, relax and drink
The Turtle Beach Lodge Hotel installations include a bar where you can rest, read, chitchat, play billiard, and last but not least, have a drink. It is just some steps away from the beach and next to our pool. You can hear the waves sitting at the bar while enjoying one refreshment from our wide range of drinks available. Our bartender is ready to serve a cappuccino, maybe a beer, or a carefully prepared cocktail. Alcohol beverages and cocktails are on the menu, and some non-alcoholic variants are available for underage and teetotaler. We would like to use this article to mention our personal recommendations for drinks according to age and taste. You can find all these drinks in our family-friendly bar.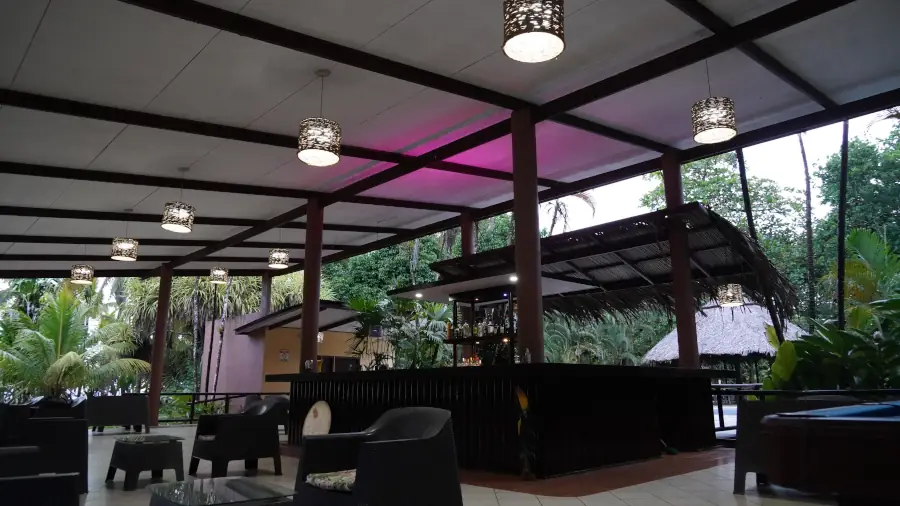 Juices and milkshakes at the bar
Children need healthy beverages in their diet, we have a range of shakes and juices available for them. Milkshakes: Our bartender will blend fresh and nutritious fruits with milk to get some delicious shakes. Perfect for kids or those looking to get the advantage of vitamins and minerals present in both products. Juices: The same as the milkshakes but not milk used for those who are intolerant to lactose. These shakes are perfect if you are looking for an energy source for your body.
Teenagers and young adults
Teenagers are looking for new sensations and experiences. It is our duty as adults to guide them carefully. This is why we offer cocktails and coffee beverages. Non-alcoholic cocktails have quite different flavors from shakes. Coffee helps teenagers to feel they are closer to maturity. Some examples are Mojito: This beverage is cool with or without alcohol, but non-drinkers will find it special because it can be served after meals and works perfectly to give you a sensation of freshness in your stomach. Also, the spearmint gives the drink a superb aroma and a unique flavor. Daiquiri: Rum is a famous alcoholic beverage made from sugar cane. But there are also alcohol-free versions perfect for delicious daiquiris. Strawberry ones are the most famous and refreshing. Mango ones are also very popular.
Our bar drinks for adults
Are you ready to party? For those looking for a night to remember we have very well-known and exotic beverages to share with friends. Gin tonic: For those who like the feel of effervescence in their mouth, the gin tonic is perfect. What started as a medicine ended up being one of the most famous alcoholic drinks in the world. Caipiriña: This drink's composition seems too simple. Its base is the "cachaza", a Brazilian distillate made from the juice of fermented sugar cane. The secret to get a terrific drink is the balance of the ingredients added. Mai Tai: Be careful with this one as it is a very strong beverage since most of the ingredients contain alcohol. Very much recommended if you are not a first drinker and looking for new flavors. Sex in the Jungle: This drink will call your attention for sure, because of its vibrant green color. Also, it contains a lot of different fruit juices, blended with rum or vodka. It is very popular among young adults.
Conclusion
Our bar is designed as a space for social interaction. Friends, family, and couples can have quality time after coming back from one of our tours. Canned beverages are available too, so every taste or craving is covered. And, who knows, maybe you can meet someone new. If you are planning to visit Tortuguero, check OUR PACKAGES HERE. We are waiting for your visit.